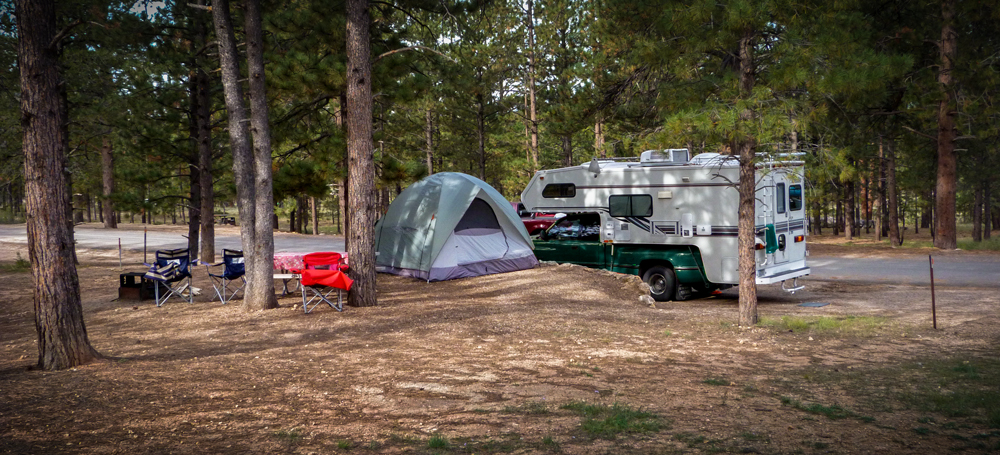 Of course we would love for you to stay with us in our comfy and beautiful cabins, but there are some visitors who prefer to rough it and camp. If you are going camping for a week in a place like Bryce Canyon National Park, then this list of what to bring might help. You do not need to bring all of the items on the list, what we are only recommending is that you choose wisely from this list. We understand that it will be quite heavy for you to bring all of the objects in the list while camping in Bryce Canyon.
Basic Equipment
First Aid Kit.
Lamps and Lanterns.
Battery.
Foldable chairs and table.
Utility knife.
String.
Pegs.
Map, compass, and GPS.
Kitchenry
Gas.
Ice cooler.
Pot, pans, plates, cups and utensils.
Openers.
Lighter.
Dishwashing materials.
Trash bags.
Sleeping
Tent. Don't forget the pegs, sticks, rods and a hammer.
Sleeping bag, blanket, mat or inflatable bed and pillow.
Toiletries
Soap and Shampoo.
Toothbrush and toothpaste.
Shaving and waxing tools.
Towel.
Comb and mirror.
Toilet paper.
Extra
Jacket and umbrella.
Hat, sunglasses and sunblock.
Insect repellant.
Sewing kit.
Camera
Cellphone.
How to Distribute Your Backpack Weight Appropriately
Aside from the size and durability of your backpack, another important thing that you must consider in backpacking is how you will distribute the weight.
You will not fully enjoy the beautiful sceneries if you are being bothered by your heavy backpack. In knowing how to balance your load, simply follow this rule of thumb: 30% of the overall weight must rest on your shoulders while the remaining 70% must be supported by your hips. You may determine this proportion by estimation or you can actually measure your things. It is important that you know this already before packing your things so you will not have to make many adjustments while you are already backpacking. Also important is to balance both sides of your bag. Don't put too much weight on one side as it may cause you to lose your balance.
Your hips must carry most of your load. There will be a high degree of comfort and with ease, you can cover long distances without hassles. You can also use the belt in your bag and wrap it around your waist to secure the weight distribution in your backpack. In this way, you can surely make long uninterrupted pace while you enjoy the beautiful sceneries.
https://brycecountrycabins.com/wp-content/uploads/2014/07/bryce_cayon_country_cabins.png
0
0
olwm
https://brycecountrycabins.com/wp-content/uploads/2014/07/bryce_cayon_country_cabins.png
olwm
2015-05-30 11:44:02
2016-04-26 17:53:20
What To Bring on a Weeklong Camping Trip